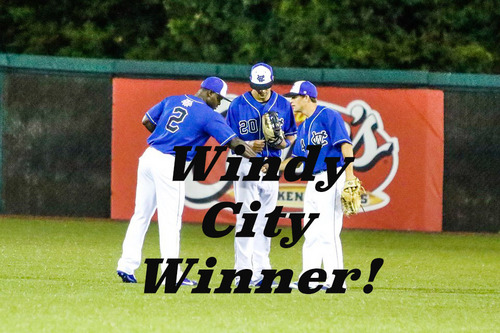 SCHAUMBURG, IL – Kenny Mathews threw six shutout innings and the ThunderBolts scored five runs in the eighth inning to break the game open as they beat the Schaumburg Boomers 7-1 at Boomers Stadium Saturday night.
Schaumburg starter Gunnar Kines retired the first nine Windy City hitters of the game but the Bolts (26-32) broke through for the first time in the fourth inning. Omar Obregon doubled and moved to second on a Brynn Martinez single. Chase Cockrell's sacrifice fly scored Obregon to give the ThunderBolts a lead that they would not give up.
Mathews had to pitch out of a few early jams but after stranding five Schaumburg base runners in the first three innings, he settled in and allowed only one man to reach over the next three. He retired the final eight batters he faced.
In the sixth inning, Obregon walked and scored on a Martinez single to double the ThunderBolts lead.
Schaumburg put the tying run in scoring position in the bottom of the seventh but Blake Hickman struck out Clint Hardy to escape the threat and the Bolts pulled away the next inning.
They scored five runs on five hits in the eighth with Martinez picking up another RBI single and Cockrell driving in two runs on a double. Taisei Fukuhara made it 6-0 with a run-scoring groundout and Micah Coffey's RBI base hit capped the scoring.
Matt Rose hit a solo homer in the bottom of the inning to break up the shutout but that was all the Boomers could manage offensively.
Mathews (3-6) allowed only three hits and struck out six for his second straight win and Kines (4-4), who likewise allowed only three hits over six innings, was the tough luck loser.
The series wraps up with the rubber match on Sunday afternoon as Cole Bellair (2-6, 4.15) takes the mound for the ThunderBolts against Schaumburg's Connor Reed (2-5, 3.56). First pitch is scheduled for 1:00 CDT and the broadcast can be heard on WXAV, 88.3 FM and wxav.com.