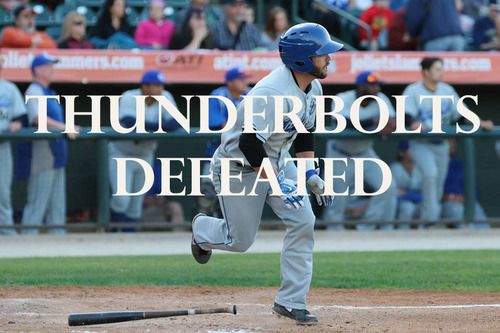 SCHAUMBURG, IL – The ThunderBolts scored the final four runs of the game Tuesday night but their early 5-0 deficit was too much to overcome as they dropped the opener of a three-game series to the Schaumburg Boomers 5-4.
Schaumburg (39-40) loaded the bases on a single and two walks in the first inning and Collin Ferguson gave them a lead they would hold for the rest of the game when he singled home two runs.
In the third, Ty Moore doubled and scored on an error and Darrell Miller hit an RBI infield single to extend the Boomers' lead to 4-0. A Sean Godfrey triple followed by a Moore sacrifice fly increased the advantage in the fourth inning.
The ThunderBolts (33-47) went hitless for the first four innings but opened the fifth with a Tyler Straub single. Derek Bangert walked and Terrance Robertson doubled to score the first run. Joe Becht's sacrifice fly cut the lead to 5-2 and, when Omar Obregon reached on an error, Robertson scored to put he Bolts down by just two.
Becht led off the eighth inning with a single and scored on a two-out base hit from Larry Balkwill to make it a 5-4 game. The Bolts put the tying run on base in each of the last two frames but couldn't push him through.
Kit Fowler (1-6) allowed two earned runs in six innings for the win and Braulio Torres-Perez (2-4) allowed five runs (three earned) in taking the loss.
The Bolts got four shutout innings from their bullpen, including three from Connor Bach, who struck out six batters.
The ThunderBolts and Boomers continue their series on Wednesday night. Eddie Avila (2-6, 5.23) starts game two for the Bolts against Schaumburg's Payton Lobdell (4-7, 2.76). First pitch from Boomers Stadium is scheduled for 6:30 and the broadcast can be heard through wcthunderbolts.com.