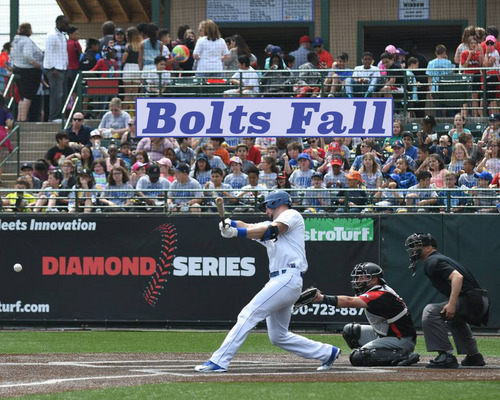 CRESTWOOD, IL – The Schaumburg Boomers scored three runs in the fifth inning to capture a lead they would not relinquish as they beat the ThunderBolts 5-4 at Standard Bank Stadium Tuesday afternoon.
The day started well for the ThunderBolts (23-37) as Joe Becht doubled and Tim Zier singled him in to move ahead 1-0. Both players would end up with three hits in the game.
Schaumburg (33-27) came back to take the lead with a pair of runs in the third. Sean Godfrey and Ty Moore had RBI singles.
In the bottom of the inning, the Bolts answered with a pair of their own runs. Omar Obregon singled and stole second before Becht knocked him in with a base hit. Becht stole two bases and scored on a Larry Balkwill double that put the ThunderBolts back in front.
The lead lasted into the fifth, when Michael Hartnagle hit a leadoff double. Jack Parenty singled and got caught in a rundown, allowing Hartnagle to cross the plate with the Boomers' third run. RBI singles later in the frame from Godfrey and Collin Ferguson made it 5-3.
That remained the score into the ninth when, with two outs, Becht walked and scored on a Zier base hit that made it a one-run game. Jake Joyce followed by forcing Balkwill to pop out for the final out. It was Joyce's tenth save.
Joe Hauser (7-4) pitched 5.1 innings and allowed three runs on nine hits as he picked up the win for Schaumburg. Eddie Avila (0-5) gave up five runs in 4.2 innings and took the loss.
The four-game series continues on Wednesday with the second of three consecutive Big Splash Days presented by Pirate's Cay Indoor Water Park. Zac Westcott (5-7, 3.29) gets the start for Windy City against Schaumburg's Kit Fowler (0-4, 5.40). First pitch is scheduled for 10:35 and the broadcast can be heard on WXAV 88.3 FM and wxav.com.