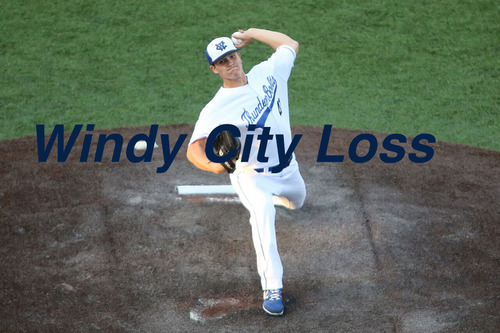 CRESTWOOD, IL – The Joliet Slammers scored two runs in the first inning, establishing a lead they would not relinquish as the Slammers took game one of a three-game series over the ThunderBolts 5-1 at Standard Bank Stadium Tuesday night.
The Slammers (31-34) loaded the bases on a walk and two hits in the first inning. Jake Fisher struck out Spencer Navin to get the second out of the inning but Danny Zardon followed with a single to left to bring home two runs and put the ThunderBolts (36-30) behind early.
The Bolts were able to respond with a run in the bottom of the fourth. Keenyn Walker singled and Riley Krane doubled him in. Krane, representing the tying run, stood at second with no outs but the Bolts were unable to get him in. They went 0-for-9 in the game with runners in scoring position.
Joliet added to their lead in the fifth. Ridge Hoopii-Haslam singled and scored on a Zardon double to make it 3-1.
They plated another run in the sixth as Luis Diaz doubled and David Gonzalez singled him home. Diaz tripled in the eighth and Gonzalez came up with another RBI single to put Joliet ahead 5-1.
Krane and Kyle Wood singled for the ThunderBolts in the ninth and Tim Zier walked to load the bases with one out but Confesor Lara came out of the bullpen with two strikeouts to end the game, Lara's 15th save.
Luis Cruz (5-4) allowed one run in six innings for the win and Jake Fisher (6-6) took the loss. He allowed four runs in his six innings.
The ThunderBolts and Slammers return to action on Wednesday morning. Clay Chapman (3-4, 4.69) gets the start in game two against Joliet's Shane Bryant (4-5, 4.72). It is Big Splash Day IV presented by Pirate's Cay Indoor Water Park, as Standard Bank Stadium will feature water balloons, a dunk tank and more. First pitch is scheduled for 10:35 and the broadcast can be heard on WXAV 88.3 FM and wxav.com.