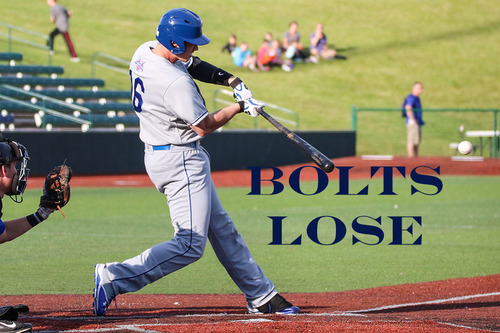 JOLIET, IL – Jake Fisher struck out ten batters over 7.1 innings but it wasn't enough for the ThunderBolts, who lost their fourth straight game, 3-2 to the Joliet Slammers at Slammers Stadium Sunday afternoon.
For the second time in three days, the Bolts (20-20) got the game's first run as Coco Johnson began the game with a double. He would score on a one-out single from Kyle Wood.
The Slammers (18-20) responded in the bottom of the inning on a Juan Silva solo home run, tying the score at one.
Joliet went ahead for good in the third inning. Edwin Gomez and Silva hit back-to-back one-out singles. Both men scored on a Danny Zardon double, putting Joliet ahead 3-1.
Fisher did not allow multiple hits in any inning the rest of the game and allowed only three more singles overall. He did not walk a batter in the game.
The Bolts tightened the score with a run in the fifth. Will Krug walked and Johnson reached on an error. They were both advanced on a Tim Zier bunt and Wood's groundout scored Krug, cutting the deficit to one. Johnson was stranded at third in the inning.
The last scoring chance for Windy City came in the eighth on a leadoff double for Wood. He tried to advance to third on a flyout but Josh Merrigan's perfect throw caught him to end the Bolts' last serious threat.
Duke von Schamann (2-4) allowed one earned run in six innings for the win while Fisher (2-4) was the tough luck loser. Confesor Lara pitched a scoreless ninth for his ninth save.
The ThunderBolts return home on Tuesday to take on the Lake Erie Crushers in a three-game series. Game one is $2 Ticket Tuesday and Clay Chapman (0-4, 3.72) will get the start for the Bolts. First pitch from Standard Bank Stadium is scheduled for 7:05 and the game will be broadcast through wcthunderbolts.com.