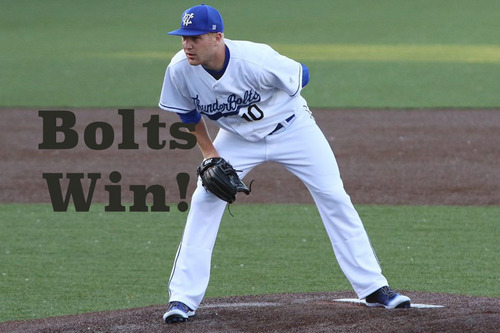 WASHINGTON, PA – After a ten-inning victory began the day for the ThunderBolts, they jumped out to an early lead in game two and never looked back in a 3-1 win over the Washington Wild Things at Wild Things Park Saturday night.
The Bolts (5-3) got on the board early as they loaded the bases on two hits and a walk in the first inning and Blair Beck drove in a run on a sacrifice fly to right field.
They tripled their lead in the third inning when Tim Zier singled and Kyle Wood doubled to put two men on base in front of Beck. The third baseman delivered again with a two-run single that made the score 3-0.
Windy City had many other opportunities in the early innings with 13 total baserunners in the first five frames but they hit into three double plays and stranded eight runners.
The three runs were enough, though, for Brady Muller who had allowed only two hits in the first four innings. Washington (4-4) finally broke through in the fifth with a Hector Roa triple and Kyle Pollock RBI single.
The Wild Things loaded the bases with two outs in the seventh inning against Scott Kuzminsky and had a chance to tie or win the game when Jace Conrad hit a deep fly to right field. But Austin Darby's running catch robbed a hit and ended the game.
Muller (1-0) allowed one run in 5.1 innings and picked up his first win of the year and Jordan Schwartz (0-1) allowed three runs in four innings to take the loss. Kuzminsky picked up his first save.
The ThunderBolts and Wild Things wrap up their three-game series on Sunday evening. Kyle Von Ruden (0-0, 4.05) (0-1, 4.50) gets the start for the Bolts and he will be opposed by Washington's Hunter Williams (0-1, 7.20). First pitch from Wild Things Park is scheduled for 4:05 and the broadcast can be heard through wcthunderbolts.com.