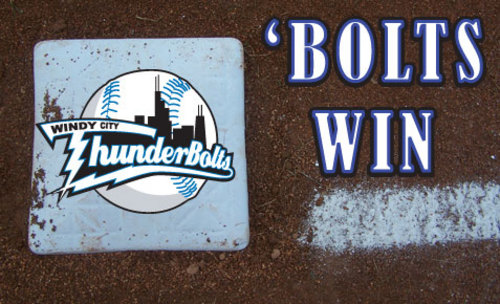 CRESTWOOD, IL – Travis Tingle threw the third no-hitter in ThunderBolts' history in a rain-shortened five-inning 5-0 victory over the Florence Freedom Thursday night at Standard Bank Stadium.
After Tingle retired the side in order in the top of the first inning, the Bolts gave him all the support he would need with a three-run bottom of the inning. Jon Mestas was hit by a pitch and Mike Torres reached on an error before Kyle Robinson ripped a single to left field to score Mestas. Ryan Soares bunted the runners ahead and Evan Button singled home both Torres and Robinson to make it 3-0.
The ThunderBolts added a run in the second when Ty Stetson singled and Robinson's second hit of the night was an RBI double.
Their final score was created by Robinson again. In the fourth, he hit a deep triple to right field and when the relay throw to third was wild, he came in to score.
Tingle, meanwhile had steamrolled through the first eight hitters, striking out five of them including all three batters in the second. Kyle Bluestein was walked with two outs in the third, the first Florence baserunner, but he was left on base when Cole Miles followed by flying out to center field, the only Freedom hitter to reach the outfield all night.
Tingle walked one in the fourth as well, but the next batter hit into a double play and he set down the side in order in the fifth, including two more strikeouts. Rain forced play to be halted immediately after the top of the fifth. In all, Tingle walked two and struck out seven in his no-hitter. It is the 21st no-hitter in Frontier League history, the eighth that has gone fewer than nine innings.
Tingle improves to 3-1 with the win and Dave Middendorf (2-2) allowed all five runs for the loss.
The ThunderBolts will start a six-game roadtrip on Friday in Schaumburg. Game one will feature Josh Spence making his Windy City debut on the mound against Cal Bowling (3-3, 4.20). First pitch from Boomers Stadium is scheduled for 6:30 and the broadcast can be heard on WXAV 88.3 FM and wxav.com.