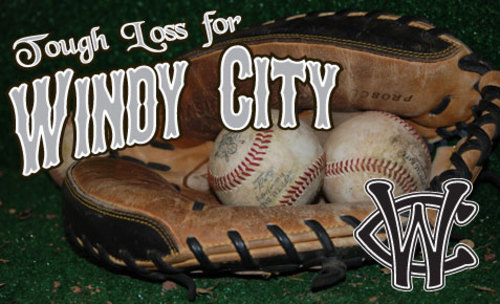 CRESTWOOD, IL – The ThunderBolts' four-game win streak came to an end Sunday night as the River City Rascals salvaged the finale of a three-game series 6-3 at Standard Bank Stadium Sunday.
The Rascals took the lead in the second inning when Sean Borman walked and eventually scored on an error.
Errors played a major part in a three-run rally in the third as River City extended their lead to 4-0. Phil Wunderlich singled and moved to third on Danny Canela's double. Evan Crawford was hit by a pitch to load the bases and Curran Redal grounded into a fielder's choice to score a run. Redal then attempted a steal and the throw went into center field, allowing Canela to score. A wild throw from center then allowed Redal to cross the plate as well.
The ThunderBolts got their first run in the bottom of the third on a Miles Walding triple and Evan Button RBI groundout.
They made it 4-2 in the fifth when Button tripled and scored when Mike Torres reached on an error.
The Rascals added a run the next inning when Canela doubled home Johnny Morales, who had walked.
The ThunderBolts would come within two runs one more time. In the bottom of the seventh inning, Doug Joyce singled and stole second base and Evan Button's double brought him home.
But the Rascals put the game away with their final run in the eighth. Canela's third double set up a suicide squeeze with Curran Redal to make the final 6-3.
Cory Caruso (3-2) pitched seven innings for the win and Brian Oliver (4-8) allowed four runs in five innings to take the loss. Gabe Shaw picked up his league-leading 21st save.
The ThunderBolts are six games out of a playoff spot and will embark on a six-game road trip against two opponents directly ahead of them in the standings. The trip will start with a doubleheader against the Florence Freedom on Wednesday night. Travis Tingle (4-5, 3.63) and Markus Solbach (3-0, 2.82) will start for the Bolts against Florence's Michael Oros (5-3, 2.03) and Casey Henn (2-0, 4.24) First pitch of game one is scheduled for 4:45 and both games can be heard on WXAV, 88.3 FM and wxav.com.