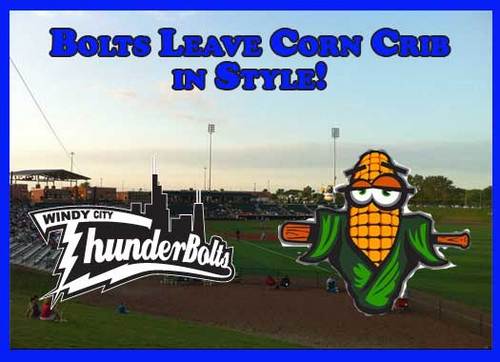 NORMAL, IL – Matt Wickswat threw six strong innings and Doug Joyce hit his first professional home run as the Windy City ThunderBolts defeated the Normal CornBelters 5-1 at The Corn Crib Thursday night.
For the second straight night the ThunderBolts struck first on the scoreboard. In the second inning Doug Joyce continued his hot presence in the batter's box as he launched a two-run homerun in the second inning to score Nathan Tomaszewski who reached on after being hit by a pitch.
The CornBelters cut that lead in half as Pat McKenna continued to hurt the ThunderBolts and led off the 3rd inning with a double. McKenna stole third and was sent home by a Romulo Ruiz ground out.
Windy City battled back as the ThunderBolts scored another pair in the 5th inning. Zach Aakhus reached on a walk and moved to third base thanks to Tomaszewski's liner into right field that Steven Felix had trouble fielding. Jeff Harkensee came up to the plate and delivered a two-run single to put the Bolts' up 4-1.
The ThunderBolts scratched across one more in the 6th inning as Ryan Soares led off the frame with a single. After Mike Torres sacrificed him into scoring position, Aakhus recorded his first hit of the series, increasing Windy City's advantage 5-1.
Matt Wickswat threw six strong innings, allowing just four hits as he retired the last eight batters he faced and Jared Christensen and Andy Mee threw three shutout innings of relief. Wickswat improved to 1-1 with the win while Tyler Lavigne (1-1) allowed four runs in five innings for the loss.
The ThunderBolts will continue their season-opening ten game roadtrip with a three game set in Evansville starting Friday night. Blayne Weller (0-1, 0.00) will make his second start for the Bolts and the Otters will counter with Matt Zielinski (0-0, 3.00). First pitch from Bosse Field is scheduled for 6:35 and the broadcast can be heard on wcthunderbolts.com.